Time-Travel Tuesday: A Night Out in Richmond
In today's installment of time-travel Tuesday, we're turning back the clock to 1982 (for the bedspread; I jest, I jest!) and to 2003 (for the person sitting on the bedspread, and the one positioned behind the camera).
Thirteen years ago, July 26 fell on a Saturday, and both Phil and I were young and single, and having become more than well-acquainted with Norfolk's gay bar and club scene, we were curious about Richmond's.
As it were, I'd chosen what was probably the cheapest, ostensibly-respectable hotel that was within walking distance of the places we wanted to go, so as to preclude any concerns about getting around safely during what was sure to be a night of cocktails.
That said, when we first walked into the room at the Crowne Plaza downtown, I remember being surprised even then by how dated it looked. All these years later, of course, it resembles a time-capsule.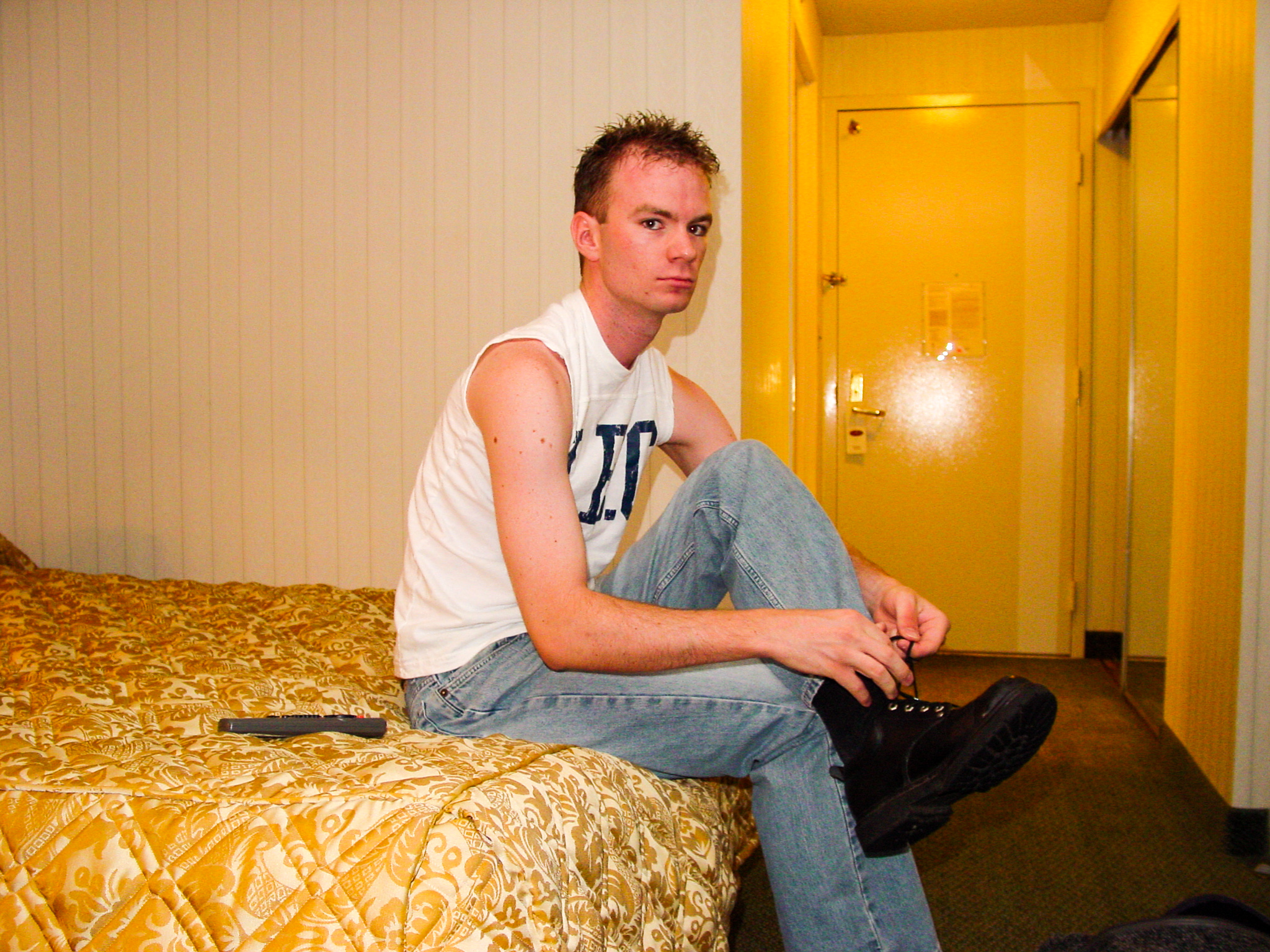 Photo: Crowne Plaza, downtown Richmond, VA, July 26, 2003
But somewhere in the midst of what were no doubt our extensive preparations for the evening, I snapped a photo of Phil with what was my first digital camera, a Sony that was rocking 4.1 megapixels and a display the size of something one might now see on a smartwatch.
We then made our way to Barcode, and then on to Godfrey's.
Even with a combined few hours between those two stops, I don't think either of us had really found the nirvana we'd been seeking, and thus neither were entirely inclined to call it a night. So, wIth the hour growing late, there was one last hope: the members-only Fielden's (which I gather has since changed hands and its focus of business entirely).
As luck would have it, my conversational engagement, augmented by drink-fueled courage and a potentially evocative outfit (I mean, for Richmond in that era…), resulted in our being in the company of a gentleman who said he had a membership to the after-hours club, and that he'd drive us there and get us in. And so he did.
As it turned out, I wouldn't again see our room at the Crowne Plaza until daybreak, when I was rocking a massive hangover.
Phil and I then attempted to saunter into the drag brunch at Godfrey's, quickly learning that that simply wasn't possible without a reservation (or a much earlier arrival than could be managed by people who'd been up most of the night). Thus, we wound up dining outdoors at Bottoms Up, munching on pizza, which somehow helped soothe our return to Norfolk, with me driving through the haze of a hangover that otherwise would've been spent reclining on a couch.
And as of now, that remains the only overnight trip I've ever done in Richmond. Of course, much has changed since then -- there, here, and with both Phil and me. Now, only one of us is still young (that would be him) and only one of us is still single (that would be me), and I now have a very difficult time imagining doing that much clubbing in one night.
But pizza, though? I'm up for that just about anytime.